2023 Cannabis Compensation Survey Summary Report
FutureSense LLC, MJBizDaily, Green Leaf Payroll & Business Solutions, Western Management Group, and NCIA have joined forces to aggregate and analyze compensation market data expressly for the cannabis industry.

The 2023 Cannabis Compensation Summary Report presents an overview of cannabis compensation data, trends, and analysis. It includes data for 100+ unique positions within the cannabis industry.

This report is available for FREE to the public, cannabis companies, consultants, and ancillary/professional service providers.



Presented by With support from Endorsed by
Gain exclusive access and more insight through our Detailed Survey Report.
The Detailed Report is a comprehensive look at cannabis compensation data. It provides all available percentiles and demographic cuts by state, headcount, and revenue.

This report is used by cannabis companies to set pay rates and inform vital business decisions.

The survey's mission is to support cannabis businesses, their operators and employees by standardizing pay analysis for the industry.
Available to cannabis companies who can participate in data submission.
This report is also available to ancillary and professional service organizations.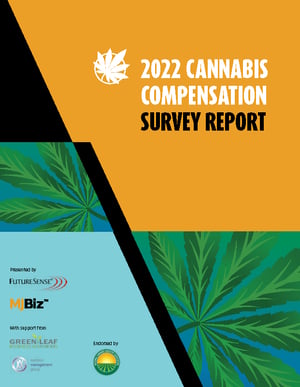 The Cannabis Compensation Report was a game-changer for our company.



Congratulations on this, huge step for normalization and professionalization in the industry, especially on the compensation front.
About the Survey
Access our FAQs and learn more about the origins, evolution, and significance of the survey.

Click to LEARN MORE.
ads.
DOJ Collusion Fact Sheet
The US Department of Justice requires that compliant survey data follow a specific set of guidelines.

Click to LEARN MORE.
Download the 2022 Report
The 2022 Summary Report is available at no charge. The Detailed Report is available to new participants.

Click to LEARN MORE.